Farington Nursery

a safe and happy learning environment for your child.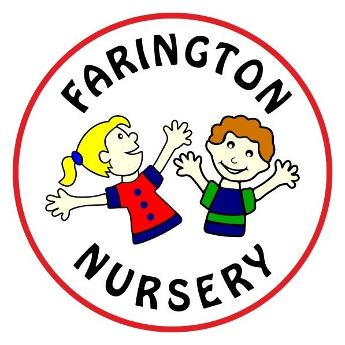 Introduction
Farington Nursery, which was formerly Farington Playgroup and St. Paul's Playgroup has been established since 1978, is within Farington Primary School. We are registered with Ofsted as a full day care provider. We are registered for 30 children per session catering for children from 2 years to school age. We are a non-profit making committee run nursery and we have clearly defined policies by which we operate. These can be viewed under polices and procedures.
PHILOSOPHY
Here at Farington Nursery we aim to provide a happy, secure, warm, safe, caring and sharing environment by providing stimulating fun activities to ensure each individual child is encouraged to develop and achieve their full potential. Thus, ensuring that each child leaves 'school ready', well prepared for future progress throughout school and life.
We encourage parents to contact us as early as possible about children wishing to join our nursery so that we can explore with families how best to meet each child's particular needs. The areas of development in which we will nurture are Personal, Social and Emotional development, Physical development and Communication and Language development using your child's own interests to learn through play. We follow the statutory framework for the Early Years Foundation Stage. The four themes of the EYFS are: A Unique Child, Positive Relationships, Enabling Environments and Learning and Development.
We work on our 'themes' linked to the EYFS (Early Years Foundation Stage) curriculum and follow children's interests, each term we will display on the notice board our medium term plans and advise how parents can facilitate their child's learning weekly.
Rose Street Farington, Leyland, Preston | 07905904444